Horizontal Blinds are one of the most popular choices for Window coverings in Silicon Valley. At Blinds & Decor we offer the highest quality products in the industry. We cater to all of the Bay Area and the surrounding cities. Call us now to schedule a Free Consultation.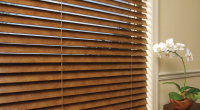 Wood
Wood Blinds are becoming the most popular style of window treatments among homeowners. With a wide selection of stains, ranging shades of White through Natural Browns, we can match the perfect finish for your home's décor. You could make any space appear rustic with a Pecan Oak finish, or go with a more modern and bold look with Black Ebony finish. Our Wooden styles are crafted out of American Bass wood, which is strong and durable, yet light and flexible. Wooden Horizontal Blinds are a perfect choice for any home, as they beautifully accent the presence of your windows.
Available in 1", 2" and 2 1/2" sizes.
Popular Options and Features: Cloth tapes, Routless, Motorized Operation. Wide Selection of White Shades and Stains.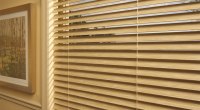 Faux Wood
Faux Wood blinds, also known as composite or imitation blinds, are on the rise as popular choice among homeowners. Made of highly durable PVC material, these blinds look exactly the same as real wood products – the only difference you will notice is in the price tag! Faux wood blinds are also great to use in high humidity areas such as kitchens and bathrooms, as the PVC won't bend or get cracked. Great value, quality product, customizable look… what are you waiting for?
Available in 2" and 2 1/2" sizes.
Popular Options and Features:Routless, Motorized Operation and Wide selection of White and Stained Finishes.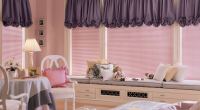 Aluminum
Aluminum Blinds, also known as Mini Blinds, are very light weight, making them a breeze to operate and upkeep. These window coverings are practically scratch resistant and are available in almost any color, making them an excellent accent to any room. Our Aluminum variations are not only used as home blinds but are perfect for Offices, Schools, Store fronts and Restaurants.
Available in 1" and 2" sizes.
Popular Options and Features: Perforated and Wide selection of colors including Whites, Blues, Black, Silver and Metallic Brushed Finishes.