Window shutters, as with most other window treatments, are used to maintain privacy, protect against weather elements, and control the amount of light coming into the room. Nowadays, however, window treatments such as shutters, blinds, and shades play more than just a functional role – they also enhance room aesthetics and are often employed by interior decorators to play up windows and establish a certain feel or atmosphere in a room or space. Window shutters may either be installed in the interior of the room or outside the window – either way, the shutters are both functional and decorative in nature. Traditionally, shutters are made of wood, however, some other materials may also be made to construct shutters; it all depends on what the shutter is for and the preference of the designer or home owner.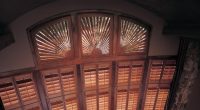 Painted Wood
An exquisite and traditional choice, solid wood shutters are guaranteed to add a rich, architectural appeal and add significant value to your home. With many different colors to choose from, your house would take a whole new look! Call us, and our specialists will schedule your free consultation – and we'll give you an offer you won't be able to resist.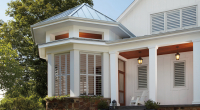 Poly
Get the look of real plantation shutters for less. Easy to clean and perfect for high humidity areas! Poly Shutters are beautiful, yet affordable. You get the same feeling of a ranch owner, even when you live downtown. Tranquility in the middle of a bustling city? Call now and we'll tell you how to dress up your house. You'll be amazed how much difference window dressing can bring you!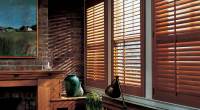 Stained Wood
Our stained wood shutters are all carefully hand crafted to add personality, while preserving the charm that is unique to wood. You can easily spot the quality craftsmanship in our work. Give us a call and we'll provide you with a quotation that will be worth your money. We'll even throw in some swatches for you! Don't wait for your house to feel like home – call today!