Sliding panels offer a modern alternative to standard window treatments. These panels are perfect for patios, large windows, sliding doors, and can even serve as room dividers. They add drama to a space by providing floor to ceiling coverage, and can be customized with a privacy or blackout liner. With multiple textiles to choose from and edge binding options available, our sliding panels can become a strong statement in your décor.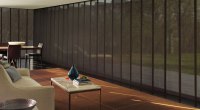 Light-Filtering
Tired of the usual curtains, blinds and shades that almost everybody has? Are you the type of person that is modern and adventurous? Then our light-filtering sliding panel would be great in your house. Available in a variety of colors, they are very easy to use, and quite practical. They look good in almost all kinds of   windows – call now and we'll tell you exactly how we can install it in your own window. Consultation is free of charge.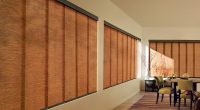 Woven Wood
If you want to feel as if you're in a spa every time you look at your windows, our woven wood sliding panel would make you feel exactly that way. They have a relaxing and inviting feel to them because of the material – wood always gives people flashbacks of good memories. Let it be the same to your house, and go easy on your senses! Call us and we'll tell you how!
Blackout
If you have a modern bent to your decorating sensibilities, and you the most privacy that you can afford, then try our blackout sliding panel. They give you high coverage against the sun, the breeze and prying eyes – while being very cost efficient and durable. Give us a call, so we can give you a better picture of how it would look like inside your house.