Also known as Roller or Roll Up Blinds, Roller Shades are a modern and sleek way to keep the sun rays from heating up your room. Blinds & Decor Inc . provide  Roller or Roll Up Blinds, Roller Shades installation services in San Francisco Bay Area (San Jose, Santa Clara, Cupertino, Saratoga, Los Gatos, Campbell).  These Shades are very simple to operate, raising and lowering with a smooth motion. An optional feature includes motorization, which is excellent for multiple shades in a single room.
Roller Shades can be used as interior or exterior blinds, and are very versatile. Our shades are not only used in homes, but are perfect for offices, schools, and store fronts. Call us NOW (408) 655-2408 to schedule a Free Consultation!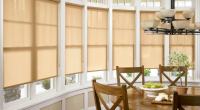 Room-Darkening
Blackout Roller Shades are the perfect blind for keeping out all the sunlight in a room. Having the capability to eliminate glare on computer screens and televisions, these roller blinds are perfect for studios, media rooms, and any other room facing the sun. Available in all types of colors and shades these roller blinds will make a fine addition to any room or office.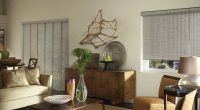 Exterior
Exterior roller shades, also known as outdoor blinds, outdoor roll up shades, vinyl roller blinds, and sun screen roller blinds, are specifically manufactured to endure outside weather conditions. They're excellent for porches and patios, as you can enjoy the fresh outside weather, without having the sun's heat rays directly upon you.These custom roller blinds act as a blanket for the room, and block away the heat. Having the option to be motorized, these roller shades are very simple to operate. Exterior roller shades are available in multiple colors and are the excellent modern shades for the outside of your room, office or patio.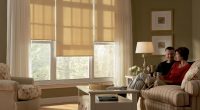 Light-Filtering
These types of roller blinds are sometimes referred to as "sunglasses for windows." Providing excellent protection from the sun's rays, Light-Filtering Roller Shades are a great option as they still preserve your  beautiful outside view.They are available in a wide selection of colors like white, black, brown, tan and many more – finding the perfect colored fabric to match your décor will be a breeze.